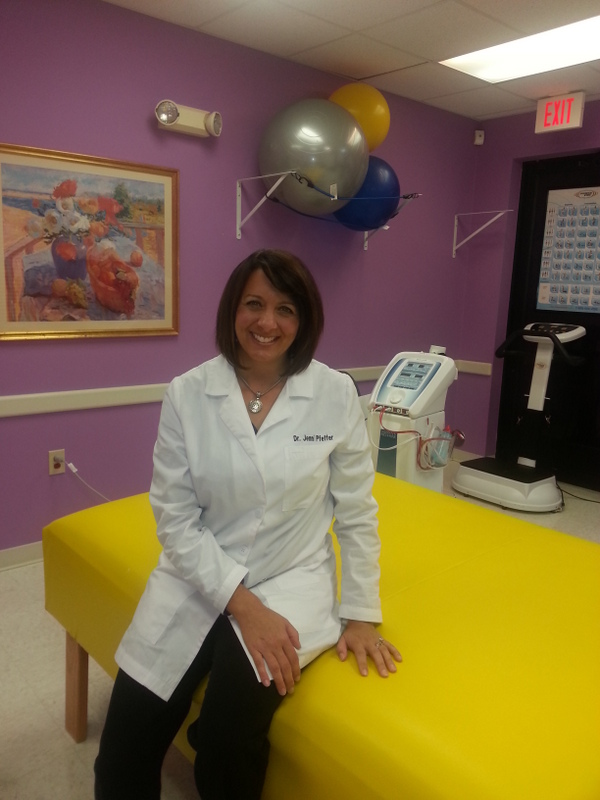 Physical therapy, consisting of therapeutic treatments such as interferential current intersegment traction, ultrasound, moist heat and electrical stimulation are applied in a sequential regimen in an effort to reduce inflammation associated with an injury. These therapies also helps increase tissue elasticity and range of motion, diminish pain associated with inflammation, reduce edema, adhesions and restricted range of motion, promotes healing and helps reduce healing time. Having an exercise rehabilitation & strengthening room on site means all your care can take place in one location and you can receive one-on-one training from our Physical Therapist to assure you're doing it right!
Dr. Jeannette (Jenni) Pfeffer, PT, DPT has extensive experience with neurology and orthopedics with patients of all ages. Dr. Jenni now specializes in developing individual plans for dysfunction of the spine, orthopedic and sports-related injuries as well as post-surgical rehabilitation. Dr. Jenni uses a variety of treatment techniques including manual therapy, muscle energy techniques, therapeutic exercise and neuromuscular re-education to return the patient to full function.
Physical therapy may be used alone or with other treatments.